NEWS - 2014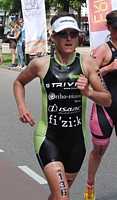 ---
Overview of my PRO career - 6 December 2014
September the 13th I did my (almost) last race as a professional triathlete. Almost? Yes, I am very delighted that I will race the famous Norseman Extreme triathlon as an Elite participant in 2015. But that will be a totally different challenge. A race between myself and the tough conditions that I will have to fight. Therefore I consider my "normal" Ironman-career to be finished now. It was a big party in Almere and I enjoyed it with a European title as a reward. I look back to an impressive carreer and I'm very gratefull for that. I won an IM and Challenge (EC) race, I'm 4x Dutch Champion on the Long Distance Triathlon, I qualified 5x for Hawaii (participated 4x) as a pro with a 9th spot as personal best. And I finished 8x on the podium in an IM race. I have seen a lot of nice places in the world because of my sport. I had beautiful training camps in e.g. Lanzarote, South-Africa, Spain (on altitude) and Arizona. Besides the nice locations where I loved to come back for training, I got to learn also very nice people which some of them are still my friends. Also my training partners are part of the nice reminders which I have of this unforgettable time.
At this moment I do triathlon for 20 years, but I tried to make a list of the special results of the last 8 years when I was a professional triathlete. Here you can find a top 8 of my most valuable reminders/results with a matching photo.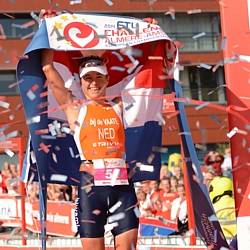 1. EC Challenge Almere 2014
European Champion and Dutch Champion on the Long Course! This was my goal for this race. But if you can make a goal true in your home country with all the spectators, than it is a very special party. You can see on the photo that I have a smile from ear to ear. I couldn't have wished for a better and nicer farewell race.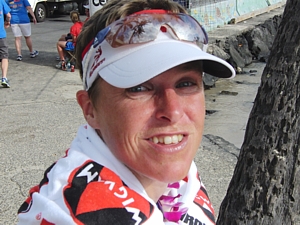 2. WC Ironman Hawaii 2010
It was my third time as a participant on Hawaii and I was in top shape. There were only a few races in my career that I felt so good and strong. At a certain moment I was 8th in the race. Unfortunenatly I got past with 1 km to go. I finished 9th women pro. For myself one of the most special results.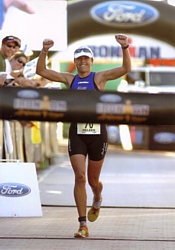 3. Ironman Arizona 2008
I never thought that I could win this race. It was a very strong field. But the Ironman saying is not for nothing: "anything is possible". The race is not over untill you finish. With 4 km to go, I was suddenly leading the race. Only at that moment I believed that I could win that race. I will never forget that the IM race report said: "she swam like a manatee but her bike and run skills made her win the race".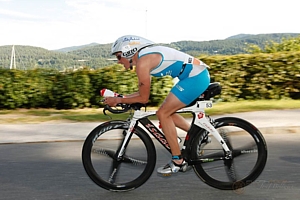 4. Ironman Klagenfurt 2011
There was one thing missing on my list and that was a time under 9 hours. So that was the goal for this race. This race is extra special for me because of the fact that I swam sub 1 hour, biked sub 5 hours and ran sub 3 hours which made a total time of sub 9 hours (8.56). Unfortunately it was not enough for a podium finish, because 3 girls were even a little bit faster than I was ;-(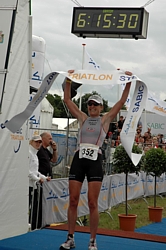 5. Stein 2007
Again a race where I had a top shape. I turned pro at the start of this year and it was the first race that everything came together. It was a pity that there were no other good girls but between the men field it was a very good result. I did one of my best run performances ever, in my home race which was sponsored by my own main sponsor and former employer SABIC.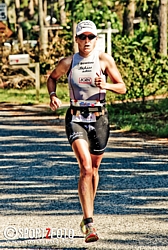 6. Ironman Florida 2007
This was my real international breakthrough. I became second in this race, again because of a very good run. When I had done a better job with my nutrition in the last 10 km, I could have won the race. But that doesn't count. I was so exited that I was running in second spot that I forgot all about it. Ten weeks earlier I had already a good performance in Almere with a time of 9:12, second place behind fellow Dutch triathlete Yvonne van Vlerken. And now I was again 5 minutes faster!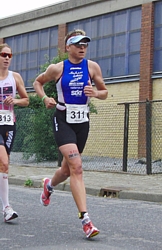 7. Stein 2010
This was a very exiting race. We game with 4 girls (Tereza Macel, Sonja Jaarsveld, Eva Janssen and myself) very closely off the bike. During the run we were switching positions several times. Due to my experience and course knowledge I could win the race. But I had to dig deep.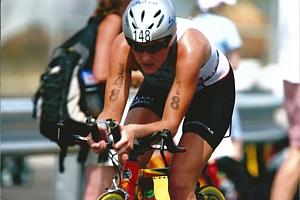 8. Hawaii 2006
My dream debut on Hawaii. With a 13th spot between the pro's I was very satisfied with this race. I even improved my PB. This was one of the reasons why I decided to take the step to a professional triathlon life.
When I look back to these highs, I have reached more in my triathlon carreer then I could have dreamt 10 years ago. And now you think, what's she going to do ? I just graduated as a lifestyle coach. I'm going to make a living of being a coach. Besides that I will still be connected to the triathlon world and I will continue do triathlons myself. Also I'm supporting our team, the Trivio Long Distance team. In other words I still do triathlon, only on another level.
Supporters, fans, college-triathletes, race-organisations, coaches, trainers, medical support, sponsors, family and friends, everyone a very big THANK YOU for your support!
Link: www.longdistanceteam.com - top
Victory at EC/NC Challenge Almere - 17 September 2014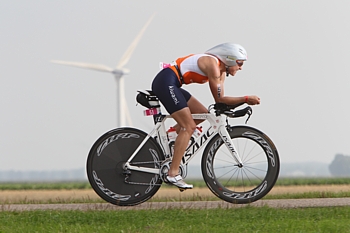 In the beginning of this year I decided for myself that Challenge Almere would be my last race as a professional triathlete. I didn't want to pay too much attention to this, because for me it was more important to stay focused on the race then to pay attention to a farewell party. The result was the most important thing for me, because I would love to stop with a peak performance. But I never dreamt of a greater farewell race on the highest level in this sport. What a day and what a big party! I will try to describe it below.
It has been a while that I was so nervous before a race. I knew I was well prepared and in good shape. My preparation on altitude in the French Alps was perfect and I also continued to become better and better in the 3 weeks before the race that I spent in The Netherlands to train on the course. The last week, when I was thinking of the race I got a strange feeling in my stomach. I tried to stay relaxed. Saturday morning at 4 o'clock it's time to wake up. As always before a race I slept pretty well. At 5:45 I'm in the transition area. Since it is the European Championships they have to check our uniforms. Luckily everything is ok. I check my bike and do the final preparation.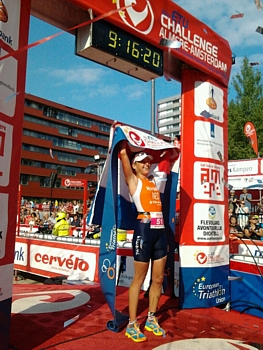 At 10 to 7 we line up. We are presented 1 by 1 to the spectators and then we can jump into the water. The water is chilly but not too cold. At 7 we start with 37 elite participants. The swim went well. I stayed with Tineke van den Berg. I know she swims the same as I do and also the bike and run part are about the same. This might become a battle between the two of us, but we're not sure if some of the other girls will go with us on the bike. Once out of the water I ran throught transition and jump just before Tineke on my bike. The first 15 km are ok, but then we turn on to the dyke towards Lelystad and there is a strong head wind. We lost almost 7 minutes during the swim, but after 30 km on the bike we are already in front of the race, probably due to the strong headwind on the dyke where it really is everyone for herself. But Tineke stays with me. After one loop of 90 km she is still there. So my tactic will be to keep pushing on the dyke in the second loop. Hopefully she will lose contact then. And she did. I got 1 minute and 20 seconds when we leave the dyke. And in transition zone 2 it is almost 3 minutes. But it isn't over yet. We still have to run a marathon.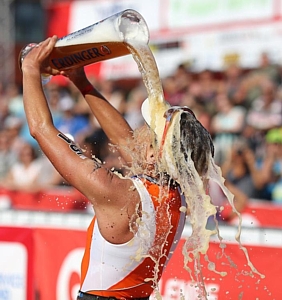 When I run off the bike I can feel that I really pushed on the bike. My legs are stiff and full of pain. But I know that if I can run on high frequency it will be no problem. And so I tried. I could find a steady pace and I understood from the spectators that it went well. But nobody told me what the gap with Tineke was. Seven km before the finishline I asked Rob. He told me that it was more than 6 minutes. So from then I was pretty sure I would win this race. I started to enjoy the last km's. With 500 m to go it was pretty cool. There were 2 motorbikes with sirenes who brought me to the finishline. With 200 m's to go I saw my mom with the dutch flag and I grabbed it. I lived in a flow, but now when I think back I get really emotional. The spectators were amazing. It was one big party! My last race as a professional and I win. And as dessert I got crowned as European and Dutch Champion. Wow!!
I would like to thank everyone who have made this to a succes story. First of all my teammates and the support team of the Trivio Long Distance Team. You have stimulated and motivated me the last 2 years of my professional career. Thanks for this. Also a big thank you to all my sponsors: Isaac, Xendurance, Sailfish, Fi:zik, Ron for Run, TAO, Suunto, C-bear, Tri-Sports, Trivio, Arena, Orthovision, Bont, CEP and Fysiosupplies. And last but not least my biggest supporter, coach, trainer, and the one who's always there for me, Rob. Without you I had never reached what I have reached now!
Link: www.longdistanceteam.com - top
Challenge Roth - 23 July 2014
Dutch cyclist Laurens ten Dam said it right this week: "The body isn't a robot. It's not that if you push the button the result will follow. That would be too easy. Whatever the reason is, you simply don't know. You hope that the puzzle pieces will fall on the right place on the right moment."
Last Sunday I started in one of the oldest and biggest triathlon races in the world: the Challenge Roth. Last year it was already on my schedule, but due to an injury I had to postpone it one year. The course is known as very fast and therefore my goal was a fast time around the 9 hours or even under. I had done quite some good trainingsessions to stand well prepared at the startline. I had confidence that it would be a "warm" and nice day.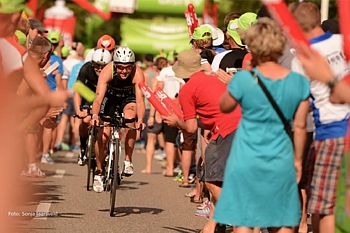 The atmospere at the start the morning of the race was very relaxed. Around 4000 triathletes plus as double as much spectators if not more. Slowly I got really nervous. At 7:30 the start gun went off. At the beginning it was a little fight but after a while I had my own space to swim. On the way back I found nice feet to swim after. If it was smart, I don't know, because we were not swimming in a straight line. But it saved me some energy. When I came out of the water, I was not happy with my swim time. But well the day was long so anything is still possible.
Once on the bike my legs felt good, but I had the feeling that I didn't have the extra push to ride a super bike split. My goal was to ride under 5 hours (which is certainly possible on this course), but halfway I saw already that 5 hours was the maximum today. But what an ambiance! After 70 km I rode for the first time up the "Solarberg". This is an experience which you can almost not describe but have to experience. You are riding in between a big row of spectators, even bigger than the Tour the France. Really cool! On top of the hill Rob was waiting for me with my nutrition. I sticked to my nutrition plan, but I felt that my stomach had some problems. I knew that I needed the energy and liquid so there was not really another option. The second loop I tried to ride as fast as I did the first, but it was a little bit slower. Also the heat did play a big role, so this made the race quite hard.
After exactly 5 hours I came into T2 and I could start with the marathon. But when I came off the bike I felt already not good. The first steps I made I could feel my stomach. I tried not to think about it and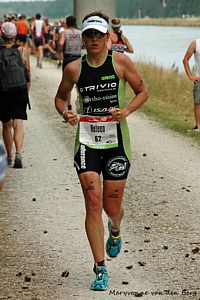 just run. At the first aid station, Rob was there with my coke shot. I decided to stop for a little while, drink the coke and cool my body. The next 10 km went ok, but I couldn't run the pace I was supposed to run. My goal today changed to finishing the race, the finishing time wasn't important anymore. After 16 km I had to walk for the first time. And from that point it was jogging from aid station to aid station and try to get something in what was hardly possible. I tried to ignore the stomach problems by squeezing my fists (see picture). At the half marathon point I saw Rob again and for him it was also clear that finishing today was the only goal left. At the 26 km mark I saw friends who motivated me a little. They told me to enjoy the moment. But that is very difficult if you don't feel very well. Between km 28 and 30 in Eckersmuhlen I got a small revival but after that it was gone. The tank was empty. That is not strange if you hardly can get any energy in. After 4 hours jogging/walking I crossed finally the finish.
At this moment I'm still disappointed. There is much more in me then what I showed on Sunday. I can feel it on my body in the days after the race. I don't have that tiredness which I normally have after a full distance race, neither any muscle pain. My stomach was still upset in the 2 days after, so probably there was something really wrong.
Foto's: Maryvonne v/d Berg, Sonja Jaarsveld
Link: www.longdistanceteam.com - top
4th victory in Dutch long distance classic Stein - 28 june 2014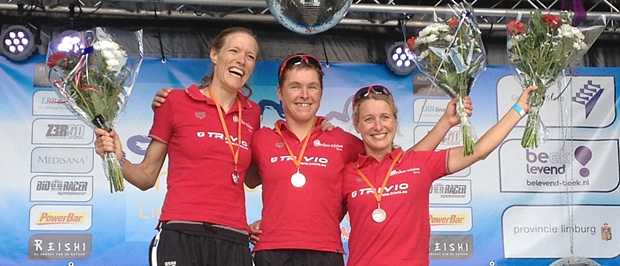 I never would have thought that I would like the drafting races on the short distance. I'm not really good in short distance racing, and especially when drafting is allowed it is not in my favor. But racing with a team gives me so much motivation that I love it!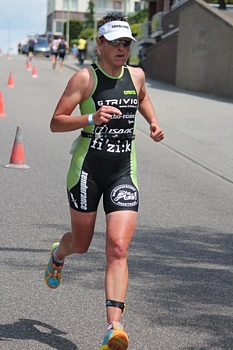 On the 8th of June we started with our Trivio Long Distance Team in the "Eredivisie" race, the National Championships on the Sprint distance in Amsterdam. For me personally it would be one long sprint from the start. We raced in the afternoon, so I did a good warm-up. The swim was ok and once I started the bike I was on my own with the groups out of reach too far in front or behind me. The first 10 km I rode alone, but then I catched one girl and we could cycle together. That saved me some energy.
When I started the run, it felt fast, but I knew that it was only a 5 km. Unfortunatly I got a penalty of 10 seconds because I parked my bike the wrong way in the transition area. After my stop my level of adrenaline was even higher. So I kept running fast and the result was that I ran a PB and finished 19th.
With our team we did a great job again. We were 3rd overall and in the standings we are 2nd now. There were still 3 races to come so anything is possible.
Two weeks later it was time for my former home race, the half triathlon of Stein. This year it is for the first time an Ocean Lava race. Last two years I was not able to finish because of an injury and a fall. So this year I was very eager to finish!.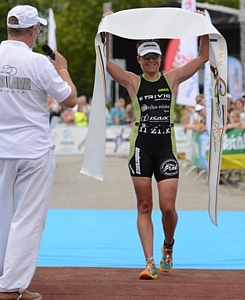 The day before the race it was time for the third race in the "Eredivisie", the sprint distance in Stein. I was there to support the team from the sideline. They did a great job again and finished as team again third.
On Sunday morning it was time for me and fellow teammates: Carla, Corine, May and Tineke. I noticed that I was a little bit nervous. Hopefully it was healthy stress. At 10 o'clock we went off. I had a very good swim and came out of the water as 4th woman. For me that does not happen very often. After 15 km on the bike I was already in the lead. I'm not used to that and I did not really like it. Normally I'm chasing and know what the time gap is between me and the persons in front. Now I didn't have a clue how far the ladies were behind me. So that made me a little bit nervous. Especially when I started the last loop and my coach yelled to me: "and now you go"! What I thought, are they so close to me?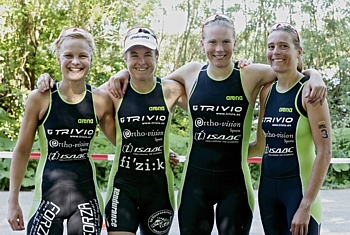 Luckily I came into T2 as first woman. I had some confidence for the run, because in the last races the run went well. But I knew as well that the race isn't over till you cross the finish line.
The first 10 km didn't feel comfy. I had to work for it and I knew at that time what the gap was with the other ladies. But then I finally found my rythm. At that time I knew that I could win the race. I was very happy with the result. My first win in Stein was 10 years ago. Know I won here for the fourth time.
It was a good test for Roth. I have still 2 weeks with some key sessions and then with a good taper Iīm well prepared for July the 20th. Itīs a race which is already for a long time on my wish list. Iīm really looking forward to race one of the oldest and fastest races in the world.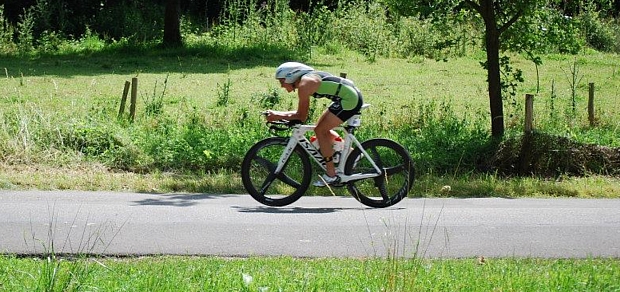 Photos by: Sonja Jaarsveld, Christie Brouwer, Marc v/d Kort, Diana Smeets
Link: www.longdistanceteam.com - top
A diverse month May - 1 June 2014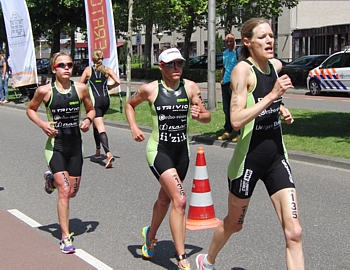 It's already the beginning of June and the triathlon season is in full swing. Time to update my webpage. What did I do in May? Well quite a lot: 3 races and numerous training sessions.
The start of May Rob and I went to Mallorca for one week. I could train in Colonia de Sant Jordi at the Best Swim Centre. A wonderful training place. There I did the Olympic (drafting) triathlon. A nice race, but it would be even nicer if I could swim a little bit faster. I had to do the bike part all by my self. Anyway I'm happy with my 5th place. The days after the race I did a lot of cycling on this beautiful island.
I was home exactly for one day before we went to the Netherlands for one week. At the end of this week I did the National Championships Olympic Distance. This race was part of the "Eredivisie" races where our Trivio Long Distance Team takes part in. It was an amazing race where our team tactics really worked out. I was tenth overall, biked well, ran well and the reward was that our team won the race!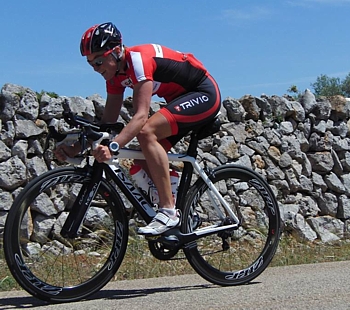 After the race Rob and I drove back to our home in Compiegne. One week training at home before we went again to the Netherlands for the next race: the half triathlon of Nieuwkoop. This race consists of 2,5 km of swimming (this time it was almost 3 km), 81 km of biking and 20 km of running. Because of the relatively long swim, this race is not in my favour as a weak swimmer, but it is a good opportunity to train the swim! The swim went well. Once on the bike, I could not find my bike legs. They were stiff and painfull, probably because of the long road trip the day before in the car. But I didn't give up. I knew that Hanneke de Boer had a big gap with me, but second woman would be certainly possible. My run was decent, and so I could finish as second female overall.
The day after the race I cycled back home from Aalsmeer to Compiegne with Carla van Rooijen. It was fun, the first day we cycled 270 km and ended up in Brussels. The next day we did the second stage. So that were 535 km in two days! Really cool to do that once in your lifetime and probably a good build block towards Roth! This month I will do two races: the National Championships Sprint Triathlon in Amsterdam and the Ocean Lava half triathlon of Stein. All the training sessions in between will certainly be focused on the main goal: the 20th of July!
Link: www.longdistanceteam.com - top
Dutch Champion Duathlon in Powerman Horst - 14 April 2014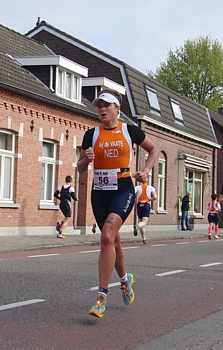 The season has started! For this year I defined 3 races as my A races. And the first one was this weekend, the EC/NC duatlon long distance in Powerman Horst, The Netherlands. The result: National Champion and 6th in the European Championships!
The preparation went well. I had two good training weeks in March on Fuerteventura with our Trivio Long Distance team. It's much nicer to train with others than to do everything by yourself. Besides that it can make you and the others stronger when you train together. When I got home I did some real good key sessions for Powerman Horst. From these sessions I got some self-confidence back. I knew that the real speed for running wasn't there yet, but that a time under 1 hour on the first 15 km was possible.
Despite my race experience, I started to doubt a little bit last week. Because of the rest before the race last week, all the fatigue came out of my body. It felt like I became worse and worse everyday. But of course this is the way a taper works. If you do it right you will feel good on race day! And it was like that. When I started my warming up, my legs felt as if they were ready to race.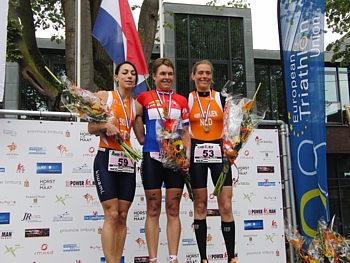 The race itself went exactly as I planned. The first run I wanted to run steady and then the plan was to attack on the bike. The first loop of the bike I had to warm-up a little (I'm a diesel), but in the next two loops I made up some time on most of the women in front of me (except for European Champ Jenny Schultz, who had the fastest bike split). I'm very happy with my bike level for this moment. In the last run the real aggressive style was gone, but I tried to keep my rythm. I made up quite some time on the number 5 in the EC, but came short 3 seconds on the finishline. This is a nice boost for the start of the season! - top
3rd in Meaux - 8 March 2014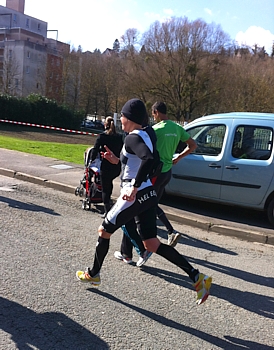 Spring has arrived. Today it will be 17C! I love this season, when you are running through the forest you slowly see the trees turning green. During my rides I smell the fresh blossom. By being outside you feed your body with energy. Then I'm really happy that I'm a triathlete.
Last weekend I did the duatlon of Meaux. It's a race close to where I live over the short distance, 6,5 km run-25 km bike-2,5 km run. This race was meant to get some race rythm for the upcoming goal the European Championships Powerman in Horst in 6 weeks. It was a steady race, but I'm not happy with my run at the moment. I'm looking for my running legs, but I haven't found them yet. But I keep seeking, I'm sure I will find them. The bike was good, and got me into 3rd place at the end.
Within a week I'm leaving for Fuerteventura. We organized a trainingcamp with the Trivio Long Distance Team over there (see the link to our new website below). I'm very much looking forward to it. It's always nice to train together, espacially when you normally train a lot by your self. We will push each other and make each other stronger!
Link: www.longdistanceteam.com - top
A new year with new opportunities - 18 january 2014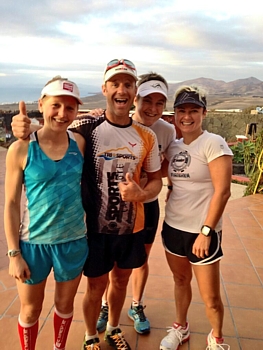 Itís already 2014, so itís time for new plans. Last year didnít go as I hoped for. A stress-fracture made me not run as much as I wanted. Luckily this time has gone by and I have all confidence for the future now. I have taken a longer break than I am used to, and since the end of December I have started to rebuild my basis. Iím fit and have made nice plans. Itís going to be a year with nice goals and challenges.
Before talking about my race plans I would like to update you about our ladies-only triathlon team, called Long Distance Team. Besides competing in the ďEredivisieĒ league (a circuit of 5 top level short distance races in The Netherlands), we have further build and grown our team and we will now much more be competing together also in the other races we are racing. Iím looking forward to it! Soon the sponsors will be announced and the new website will be launched. So stay tuned!
At this moment Iím at my favorite trainingspot, at Trisports Lanzarote. And I am definitely not the only pro training in Lanzarote at the moment. Iím working hard to get a good base for the rest of the season. Unfortunately the weather is not as it used to be. I have had 3 out of 5 days with rain since I have arrived. But the temperature is much nicer as it is back home. The only thing is that you have to clean your bike every dayÖ
Talking about my race schedule then, Iím very excited by the fact that this year both the European Championships long distance duathlon and triathlon are hosted by races in The Netherlands. The first race where I want to peak are the European Championships (and Dutch Championships as well) Powerman duathlon in Horst. The other two peak races for this season are full distance triathlons: the Challenge Roth and the European Championships (and again Dutch Championships as well) Challenge Almere. Besides I will do some Eredivisie races like the Dutch Championships on the Olympic and Sprint Distances and of course I will start in the half triathlon of Stein (my former home race). I hope itís going to be a nice year and I hope that I stay injury free!
Link: www.trisportslanzarote.com - top