BIOGRAPHY



In my youth I did several sports like gym, volleyball, tennis, table-tennis, speedskating, but all on a low level. During my Highschool period I had to cycle from Creil to Emmeloord and back (2x15 km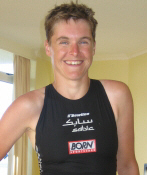 per day) which can be considered as my first endurance training. After Highschool in Holland, I did one additional year in the US, where sports play a more important role, and I played some field-hockey, basketball and did track. Especially running went quite well and I decided to do more with that when starting my studies at the University back in Holland. I was one of the early members of the Student Triathlon Union Aloha in Enschede, where I was a board-member for 2 years and did the organisation of the University Triathlon race for 2 years (UT-Triathlon). In the meantime I was teached swimming and did my first tri- and duathlons. Rob started to be me trainer in 1998. In 2000 I moved to the South of Holland (Maastricht, Limburg) and started working. Since I did not have so much time for training next to my job, I almost completely skipped swimming and concentrated on duathlons for 2 years. But after my first long distance triathlons in Stein (2001) and Almere (2002) I knew my future would be on that discipline and I started dreaming about the Ironman Hawaii. In 2003 Rob and I moved to Stein, where we bought a house along the bike course of the SABIC Triathlon Stein. The transition from triathlon being my most important hobby to the professional level in the sports took me a few years. Since my first Dutch title on the long distance in 2004 I started seriously to focus on sports at a pro-level, at first I did combine that with my job as a process engineer at SABIC. In 2006 I started in Hawaii for the first time and finished as 13th between a lot of other woman who lived as a full-pro triathlete. Although I was 32 years old already my level was still improving and I took the decision to become a full-pro myself as well in 2007, since I want to know what level I can reach on the Ironman distance. This really paid off in my first 2 pro-seasons, with a second place in Ironman Florida 2007 and an Ironman victory in Arizona 2008 as my best results. Unfortunately 2009 was a terrible year for me with 2 injuries (a stress fracture in my foot and a bulging disc in my back) that prevented me from finishing an Ironman event. I had to decide not to start in my 3rd Ironman Hawaii. But in 2010 I could come back strong and finish top-10 in Kona! As per 2011 we live in France, near to Paris, because of Robs job. In that year I set a new personal best below the magic 9 hour barrier (8h56min) on the Ironman distance. In 2012 I became Dutch Champion in Almere for the 3rd time in my career in another fast time of 9h03min. Although the year 2013 started good with my 4th podium finish in Ironman Lanzarote (2nd place), the remaining part of the season was disappointing due to a long lasting injury. I am completely fit at the start of 2014, and I am looking forward to race both the European Championships long distance duathlon and triathlon in The Netherlands!
Name
Heleen bij de Vaate
Contact - E-mail
heleen@heleenbijdevaate.nl
Place of living
Compiegne, France
Date & Place of Birth
23-6-1974, raised in Creil (Noordoostpolder)
Nationality
Dutch
Length & Weight
170 cm, 56 kg
Partner
Married with Rob
Education
Msc in Chemical Engineering, University of Twente (1993-1999)
Academy for Lifestyle Coaching (2013-2014)
Profession
Process Engineer, SABIC Europe (2000-2006)
Professional triathlete (since 2007)
Becoming a Lifestyle Coach in the near future (since 2013)
Trainers
Rob de Hooge (overall training-plan)
Stephane Lecat (swimming)
Jacqueline Stoel (sports physiotherapist)
Specialisation
Long Distance Triathlon
Best performance
Ironman winner Arizona 2008, 9th place Ironman Hawaii 2010
Personal Best Ironman
8'56'11, Ironman Klagenfurt 2011
First triathlon ever
1/8 Triathlon in Losser, 1995
Weakest discipline
Swimming
Strongest discipline
Cycling or Running ?
Favorite training
Running on the track / Long ride on the bike in sunny weather
Goal
To win races
Dutch Championship titles
Long Distance Triathlon Champion 2004, 2010, 2012
Ambassador of

Triathlon Stein
Challenge Almere-Amsterdam
Topsport Limburg (being member of "Team Limburg")

Clubs

JNC60, Jeunesse Natation Compiegne Oise
Triathlon Vereniging Stein
Triathlon Club Maastricht
D.S.T.V. Aloha, Enschede
---



During my youth I did swimming on a moderate level. After starting my studies at the University of Twente I was looking for a new challenge and found it in triathlon. The Student Triathlon Club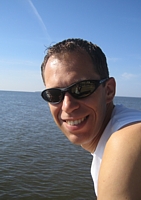 Aloha was founded in '94 and I became a member immediately. Next to sporting myself, I was one of the swimming trainers of the club as well as a board member. I also took the initiative to start a Student Triathlon Competition between Universities with several races in Holland. My own triathlon ambitions were hindered by a lot of running injuries, I just did about 10 short distance triathlons. In Twente, I also got to know Heleen and we decided to work together on her sportive ambitions next to our private relationship. The last couple of years this turned out to be quite a good decision. Her continuously improving level stimulates me to study the science of training more indepth and keep on looking for new impulses. And because I think a professional sportswoman mainly has to have to focus on her sport, I also try to organize a few other things like her equipment, sponsoring and PR. Our 3 most beautiful triathlon experiences were Hawaii 2006, Arizona 2008 and Zürich 2010. It was great to go to Hawaii together in 2006 and to enjoy Heleens superbe race out there resulting in a nice 13th rank at the finish! And I was very lucky (just coming over from Europe for the race-weekend) to be in Arizona in 2008 during her Ironman victory, I will never forget her finish there! In IM Switserland in 2010 I finished my first Ironman and Heleen was exactly 1,5 hour faster to finish 2nd place and got her 4th Hawaii slot. We really have the luck to see a lot of places around the world due to her sport and in this way we can combine our other hobby traveling from time to time with training and competitions. Since 2013 I am also a Team Manager of the Trivio Long Distance Team (www.longdistanceteam.com), a group of women racing mainly on the longer distances and in the Dutch Eredivisie at top-level.
Name
Rob de Hooge
Place of living
Compiegne, France
Date and Place of Birth
14-3-1975, raised in Amersfoort & Hoogland
Nationality
Dutch
Length & Weight
186 cm, 75 kg
Partner
Married with Heleen
Education
Msc in Chemical Engineering, University of Twente
Profession
Site Manager, DSM
Sportive history
Swimming, Triathlon
Active in Triathlon as...

Trainer/Coach
Manager Trivio Long Distance Team
Speaker / Announcer (sometimes)
Athlete (sometimes, if not injured and time is not limited)

Hobbies

Triathlon training theory and practice
Coaching & Advise
Sports
Traveling (or training-camps)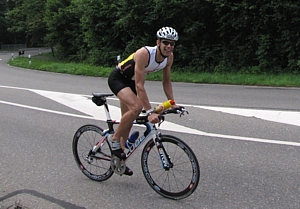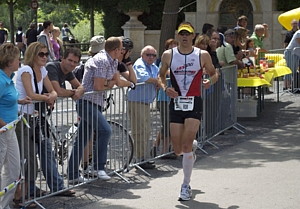 Photos: Ironman Zürich 2010. Finishtime 10h53.