NEWS - ARCHIVE 2007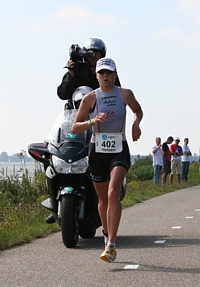 ---
Race report IM Florida: 2nd place in personal best - 17 November 2007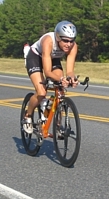 What a wonderful day it was. During the swim I felt how easy I was gliding through the water and was able to stay in a nice group, saving energy for later. My swim-split of 1:03 equals my best of Almere just 3 months ago. I am still losing quite a bit of time here on the lead woman, but at least there is improvement every year. Then there was the beautiful weather and my legs feeling pretty strong, leading towards a 4:54 bike split, again quite close to my Almere split of this summer. Though I was passing a few other Pro woman, there are always faster riders: when Eva Nystrom and Tyler Stewart came along I thought it would be wise to ride my own pace. Entering the second transition zone I was quite surprised that I already closed the gap to Bella Comerford on the bike. But when we started the run together I was astonished by her pace and again I thought it would be wise to stick to my own rhythm. It turned out to be a wise decision, since I caught her again halfway the marathon by running a steady 1:29. And by passing Nystrom, Stewart and Schumacher as well I suddenly was in 2nd position to my own surprise! Up to the 30 km turning-point I still was rapidly gaining time on leader Nina Kraft, but the last 10 km were very hard for both of us. My legs were hurting a lot and I couldn't come closer than the 2'05 it was at the finish-line. With my fastest marathon ever (3:06) I put down my personal best again to 9:07:40. And I am very happy with my early Hawaii slot for 2008 as well. This first full-pro year turned out to be quite succesful and this makes it very easy to continue training for next year, I almost can't wait. But first, there is recovery and there are holidays.
Links: www.ironmanflorida.com and www.ironman.com - top
Hoping for good IM Florida after bad luck in preparation - 19 October 2007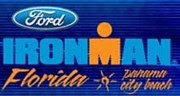 The first week in Lanzarote was wonderful, the usually strong winds didn't even blow that hard. But in the second week I encountered some bad luck when colliding right into a dog which suddenly jumped in front of my bike. A split second later we both lay down on the asphalt road. The worst of my problems is that my knee is holding me back from a lot of the running I would have liked to do in these preparation weeks towards the Ironman. In the meantime I can run now and I guess I will be recovered fully at November the 3rd, but it is definitely not the preparation I had in mind.
Nevertheless I still feel that I have a pretty good basis fitness level this year and I am looking forward to race in Florida. In the end you can't do more than give all you have on race-day and that is what I have to do to make any chance on the beloved Hawaii slots for 2008. With over 30 Pro woman, a strong field is hoping for the same. We will be there some time in advance to enjoy the higher temperatures and get familiar with the course and specific conditions over there. Let's hope for the best!
Links: www.ironmanflorida.com and www.ironman.com - top
Xentis new wheel sponsor - 19 October 2007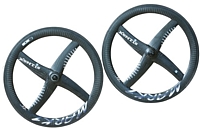 Very good news! A few years ago the new brand of Xentis wheels launched the Mark 1 and in the meantime a lot of triathletes have discovered these nice and fast 4-spoke carbon wheels. Last year we saw Faris Al Sultan in Hawaii with a prototype of the improved version and since this year these Mark 1 TT wheels are on the market. Thanks to a nice sponsordeal with the Dutch representative for Xentis wheels (Legends), I will race on these light, stiff, aerodynamic and very nice wheels for the next 2 years. Of course I am very happy with that and I hope for a very fast and smooth bikeleg on them in Florida. Braking on carbon surface rims requires special brake-pads and luckily Legends supplies me with one of the best, the Yellow King Carbon brake-pads from Swiss-Stop.
Links: www.xentis.com and www.legends.nl - top
Won 2 races before training camp in Lanzarote - 30 September 2007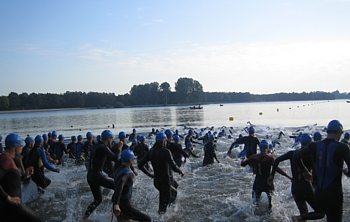 Almere is more than a month ago and in the meantime I was recovering, picked up some basic training and did 2 Dutch competitions in the second half of September. The first one was the half Ironman distance in Deventer, which is quite a nice new race in Holland. I won the first edition last year and could also win the second a few weeks ago. Rob and I decided that I should swim and bike at maximum speed and then have an easy run if possible to stay in the lead position. I was happy with my swim, but from the start of the bike-part I had to deal with hurting legs, probably since I didn't taper at all for the race and did some power-training in the week before. The run went at easy speed indeed and I was quite enjoying the race in the middle of the town. A week later, just 1 day before we left to Lanzarote, I was racing the Newline half marathon in a little village called Hattem. Of course it was nice to race in my own sponsors (Newline) event, having the luck that no stronger opponents were present so I could win. The victory was definitely not since I was running so well, in the contrary, having some cramps I think that it was the worst race of this season so far.
The good thing is that we are having a great 3-week training camp in Lanzarote at the moment. We, that is Mariska Kramer and myself, are both preparing here for our IM Florida. Just in time we left the wet and colder weather in Holland last week. As always you have to adjust to Lanzarote, not only for the higher temperatures, but mostly since it's a lot more hilly than in Holland and the winds are strong. Two hard weeks to go on this beautiful island! - top
Super personal besttime in Almere: 9.12.07 - 26 August 2007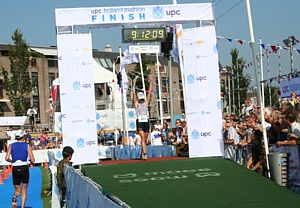 Yesterday was a superrace in Almere. With personal best splits on swimming and cycling and a steady 3.10 marathon I was back at the finishline in a time which was half an hour faster than my previous personal best in Hawaii last year. Despite this fast time, I did not win the race. Yvonne van Vlerken finished for the second time below 9 hours (out of 2 starts on this distance) and took the Dutch title. The silver medal was mine.
Already before the race I knew that it would require racing at a very high level to make a chance on the title in Almere. Since I have seen racing Yvonne the last few years in Holland I already knew that she is fast, but after her almost-Worldbesttime in Roth we all know that she is the woman to beat on this distance in the next few years. I was pretty happy with my swim leg of 1.03 and being within 5 minutes of the lead. My first bike lap was faster than Yvonnes, but in the second and third lap she even went faster while I was doing all my best to maintain the same level. My bike-split of 4.53 is amazing, but in the marathon I felt that pain in the legs after such a bike-leg is different than in my previous races where I rode above 5 hours. I had plans for a faster marathon, but taking that into account I was happy being strong enough to hold on and finish in a giant personal best of 9.12. This feeling will help me through the next 10 weeks towards my next big race: IM Florida.
Link: www.upc-hollandtriathlon.nl - top
Winner of Open Belgian Champs. on Middle Distance in Eupen - 5 August 2007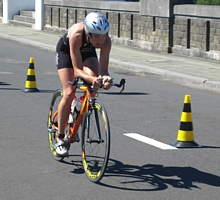 In my first triathlon since my victory in Stein, I had the nice feeling of winning again. The Open Belgian Championships "Long Distance" were held in Eupen over 2.5km swimming, 80 km cycling and a half marathon running. Quite an unfavourable distance for me and after a swim of 44 minutes I already was 11 minutes behind the Tsjech leader Eva Novakova. With the fastest bike-split I could reduce the gap to 6 minutes at the start of the run. My legs were not as strong as on a real top-day, but I didn't expect that either because of the training volume in preparation on my next Ironman races. And they were just strong enough: at the end of the run I could overtake the lead and with a fast 200m sprint into the finish I won Eupen for the second time in my career (first was in 2004). This was a wonderful sunny day for me (it was about 30 degrees Celcius) and I am looking forward to the Dutch Long Distance Championships now, which will be held on the Ironman distance the 25th of August during the Holland Triathlon in Almere.
Link: www.triathloneupen.com - top
Victory in Sabic Triathlon Stein !!! - 24 June 2007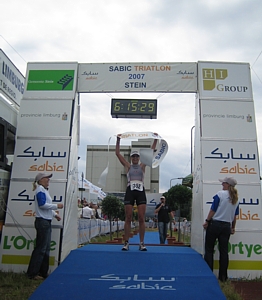 Today I really much enjoyed racing the long distance in my home town Stein. The race is also called the Dutch Mountains Challenge since the bike and run course have several steep climbs. This does not make it a fast course, but a very beautiful one. Upfront I was looking forward to a probably hard race against last-years winner Ulrike Schwalbe. My swim felt quite good and I am still enthousiastic about the good shoulder-flexibility of my new Sailfish wetsuit. On the bike I closed the gap to the lead already in the first lap out of four and my supporters told me that I was cycling faster than Ulrike. Of course I did feel the pain in my legs on the climbs, but with a comfortable 18 minutes gap I started the run and just enjoyed the four laps like I was flying. Coming into the finish I surprised myself by breaking the course record in a new run record split of 2:03. This is the confirmation to myself that I made the right decision to quit my job and become a full pro this year. Many thanks to all supporters on the course today!
Link: www.sabictriathlon.nl - top
5th place in Ironman 70.3 race St. Pölten, Austria - 4 June 2007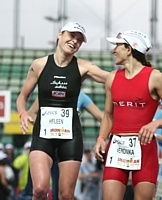 I was in Austria last week for this race which took place about 50km from Vienna. The womans-field was quite international with athletes from 9 different countries in the top-10. Swimming took place in 2 different lakes, with 300m running in between. After starting with a dive I was able to sprint to Erika Csomors legs. When starting our bikeride, a heavy rain made the roads quite slippery and I recognized this when I lost the grip of my back wheel for a moment. This made me a bit afraid and especially in curves and descents I lost too much time, resulting in a 5 minute gap after biking to the third position which was my goal before the start of the race. But than there was the running part of the race! While heavy rain, lightning and thunder made it messy circumstances for our supporters, I did enjoy every step of it. With a half marathon time of 1:21:47 I even came very close to the 4th position of home-favorite Veronika Hauke, but unfortunately I lost the sprint with 1 second (see picture). In any case, I am very happy that all the work on my running finally resulted in a good race. In the next few weeks I have planned some more hard sessions to improve my shape towards the long distance race in my home town: the Sabic Triathlon Stein. - top
3 short course races towards start in IM 70.3 Austria - 28 May 2007
In May I did 3 shorter races in The Netherlands addition to my training for the more important races in June. As a start I won the 1/4 triathlon in Enschede, the week after that I was third in a duathlon in Amersfoort and last Saturday I was third as well in the Olympic Distance race in Heerenveen. These races were important speed training sessions, as this is a quite difficult part of the sport for me as a real long distance addict. I wasn't completely satisfied with the results, but maybe that is even better since it showed me where further improvements have to be made. It was a good preparation for my next race, which will be the half Ironman in St. Pölten, Austria on the 2nd of June. - top
New sponsors: Schwalbe tyres and Sailfish wetsuits - 9 May 2007
Being recovered and in training for the IM 70.3 race in Austria and the Sabic Long Distance race in my home village Stein, I am very happy to present two new sponsors. Schwalbe cycle tyres will provide me with their new top product Ultremo, which is a very light and fast tyre and thanks to the use of the new Vectran fibre quite resistant to punctures too. Sailfish wetsuits will provide me with their newest fast suit "One" which had a top ranking in a test of the German Triathlon Magazine. - top
Disapointing DNF in Powerman Holland - 22 April 2007
Today, the Powerman World Championships took place in my neighourhoud, the city of Horst was host of the race. After a recuperation period from IM South-Africa, I did some speed-work last week to be able to compete in a nice shape in this race. But unfortunately I had a nasty bike accident last Tuesday, when I crashed during training with other bikers from the opposite direction on a small bike-path. I found myself dizzy on the ground, but after 2 days of rest I had the confidence that all problems were almost solved. The only thing was some pain in my back/shoulder, but I hadn't felt it at high intensity yet. This morning I did, and already in our first running lap I felt increasing pain at every impact and with breathing as well. I really wanted to try, but in situations like this you have to listen to your body. I am in another recuperation period now :-( - top
New plans after good result in Ironman South-Africa (5th) - 31 March 2007
Two weeks after the race now, I can still feel that it was a though race. Swimming is not my favourite, but swimming in big waves is even worse. I never swam so long in an Ironman and was already quite exhausted when I started the bikeride. Natascha went like a rocket and I was happy with being among the best of the rest. My legs did not feel so strong as in Kona last year, but the 5:18 was good for this moment on a windy course. Most satisfaction came from the run, where I kept pushing the full marathon regardless the pain in my legs: a small mental victory. The 3:15 was my third (after Lanzarote and Kona last year) on this level and gives me the confidence that this is not just happening on a top-day but becomes my "ordinary" running-speed in an Ironman. Being just behind Niederfriniger, Comerford and Vlot (women with a lot more victories in the past than me) was a good result, although you always hope for more.
Not being qualified for Kona yet, I got a lot of questions about my further plans for this season. Since I am just a full-pro since a few months, I feel that I first need some more time to become stronger and faster in shorter races before doing other qualifiers. This means no Kona for me this year, I will look for another long distance race in the second half of 2007 and keep you updated if I know when and where. - top
Training in South-Africa towards the IM race - 8 March 2007
Since the last week of January I have been living in Potchefstoom, a small town in the Johannesburg area at an altitude of 1400m and a quite stable warm (sometimes hot!) climate. I really needed some weeks of just training to become at the required fitness level to do an Ironman. After Hawaii I had to focus on the last weeks of my former job and in January a lot of things had to be arranged to be ready for my "new life" as a triathlon-pro. I hope the basis in February and some recent hard training sessions will be enough for a good result next week. At least I feel pretty well and my mindset is very positive towards racing for the second time in Port-Elisabeth. Unfortunately my first race in 2005 was hindred by stomach problems and I would like to improve that result by as much as possible. We'll see on the 18th of March! - top
My start as professional in 2007 - 1 Januari 2007
After some years as part-time triathlete next to my job as a process engineer at SABIC, I finally decided to try it as a full-professional triathlete in 2007. SABIC will remain supporting me as my main sponsor, which is really great and next to that I will get support from some sponsors which are helpful for several years already. You can check all them out on the new special sponsorpage of this website. Since I started rather late with triathlon on a Pro-level, I have the feeling that enough room for improvement is left. Especially on the Ironman distance my age is not a problem at all, top-triathletes are aged typically between 32 and 37, so I hope my best years will be ahead! By training and racing full-time this season, I can do some more specific training, but the best part is that I have the opportunity to rest and recover better instead of hurry to my work after some days/week off for training or racing. My first goal this year will be the Ironman in South-Africa on the 18th of March. I will let you know on this site how things will continue after that race. Enjoy a sportive 2007, happy newyear! - top
New website in 2 languages - 1 Januari 2007
After 2 years on the internet with my old website in Dutch only, I am starting now with my own domain on www.heleenbijdevaate.nl. Rob has done a little redesign of the site as well. Since I will be more competing worldwide (for example in the Ironman races) I decided to start an English section as well. I hope you will enjoy reading! - top